It was our 3rd day here in Bali. Yesterday we called, Pak Rahmat, the driver whom we met at the airport while waiting for the other driver. They agreed to take us around for 400k (inc petrol n parking). It's about 100 over ringgit. Well, he's not actually working full time as a driver since he's attached to a hotel at Nusa Dua (can't remember the hotel's name). So, in the morning (morning x morning sangat la), as scheduled we started our journey to Mount Batur. The driver was very punctual. He was there before we even went down to the lobby (we could see from our balcony
).
Mi pop & choco milk for lite breakfast
Tangkap gambar sat...
Our 1st stop before Mount Batur was Goa Lawah (Bat Cave). Very popular with tourists. It's a bat cave in a cliff which is also a temple. When we arrrived, they had a ritual going on. To enter, we needed to pay the entrance fee but very minimal, seringgit mcm tu lah and FOC for children. We were given batik sarong and yellow cloths for the children to be tied either at the waist or head. My children naik excited plak nak ikat2 kain kuning tuh. According to the people working there, it is compulsory for the tourists to wear the sarong if they want to go inside, it's like giving respect to the 'holy' place.
The Entrance
Tadaaaa.....
Countless thousands of fruit bats inhabit the place. We could hear their noise from outside. We didn't go into the cave, though. Just sightseeing outside and snapped photos here n there. After all, the locals were just finishing their offering. According to the legend, there was a giant snake inside the cave which was fed by the bats..But that's just myth.
Top: The cave's entrance, middle: Farah n other visitors, bottom: Some of the
unique classical entrances to the cave ( i guess)
At the cave entrance.
Humming sound of the bats could be heard from outside'of the cave.
At the back, we could see there was some kind of ritual going on.
Pheeewittt....
We didn't stop long at the cave. We needed to continue our journey..Banyak lagik stop nih sebelom sampai Batur... Our next stop was Mas. It's a famous woodcarving centre. Mas is very small. Most of the carving shops are huge mansions and other smaller shops. The prices are of course, expensive daaa.... x yah belikla.. jalan2 pusing tengok2 ja... Jom layan gambar...
..Oh ya! Masok: free
Welcome to Mas!
Statues..Bali ni memang kaya statues..sana sini ada patong...
The woodcarvers are carving their masterpieces
This one is for sale too...:)
Some of the exhibits for sale here...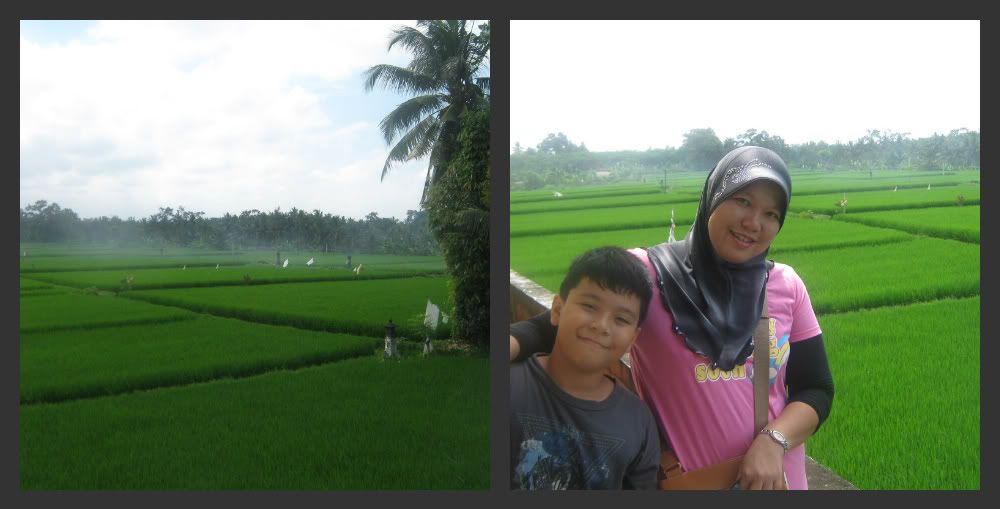 The paddi field behin the woodcarving mansion. Another breathtaking scenery!
Left the mansion without buying anything and went to another arts gallery, this one was Puri Lukisan Museum, the Palace of Fine Arts. The entrance fee here is quite expensive. U'll get free bottle coke. Children & TA go in for free. I noticed the gallery was set in a lovely grounds with fountains, flowers n ponds...
The surrounding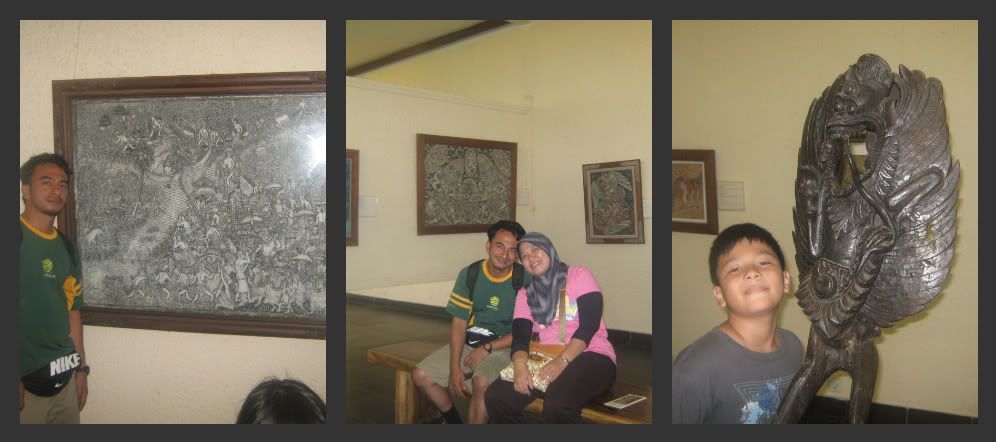 Inside the gallery
Farah learning to play this musical instrument....can't remember its name. Sempat jugak tuh...
By the time we left the gallery, it was already noon and we stopped for lunch at Ubud.
According to the TA, the place serves halal food but we didn't want to take
the risk, so we ordered vegetable n fish based food. From the menu, there's no
pork sold here.
Farah showing her ducky movement
Taken from the verendah where we ate
After lunch, we didn't waste time at Ubud. After all, i didn't have any particular things to buy there.. So, we head straight to our main destination.
Sedikit info tentang Mount Batur from WIKI:
Mount Batur
(Gunung Batur)
is an active volcano located at the center of two concentric
calderas
north west of
Mount Agung
,
Bali
,
Indonesia
.

The south east side of the larger 10×13 km caldera contains a caldera lake. The inner 7.5-kilometer-wide caldera, which was formed during emplacement of the
Bali
(or
Ubud
)
ignimbrite
, has been dated at about 23,670 and 28,500 years ago
.
The first historically documented eruption of Batur was in 1804, and it has been frequently active since then. Taken from:
http://en.wikipedia.org/wiki/Mount_Batur
The journey to Mount Batur from Ubud was quite winding and steep. As we drove further up, the temperature was getting milder. Along the way to Mount Batur, our eyes were glued to the serene scenery around us especially the green paddi field. It took us 1/2 an hour to reach Batur. Once we were out of the car, we were completely blown away by the beauty of the mountain. The dizziness due to winding road previously vanished. The view was outstanding! It was really beautiful, i couldn't describe it with words. We sat down for a while without saying a word. All were very impressed with the beauty and tranquility of the place. Let's look at some photos n i'm sure u'll agree with me!
There are trails if one wants to trek up the mountion but u need to start very early in the morning. Otherwise,
the steam would be too hot for one to bare.
The 4 of us! Notice the black soil behind us? That's the remaining of the larvae from the last eruption.
With our driver, Pak Rahmat! Die pon terlopong mandang2 kat sini...
From different angles!
Tapilah kan..ada satu aja yg buat spoil kita punya mood. dah baik tengok pemandangan hebat, tetiba datang pulak penjual2 hardcore nih buat kacau... Mount Batur area is the termerity and tenacity of the local sellers, who will force u to buy their stuff... They were not rude but very aggressive... kacau daun betol... I wouldn't mind buying, but let me finish with the scenery 1st, pas tu barulah jual2...but, to tell u the truth, they sell very cheap items... Tp pasal mood dah spoil, we didn't buy much, accept benda2 yg Farah nak... x belik karang merajok pulak... But, it's really cheap...a nicely carved chess set = RM10 and a piece of t-shirt (yg bodo2 tuh) = rm3...I didn't buy...balik hotel, rasa menyesal pasal nampak set catur kat reading room...huahhhh!!!!
Dah...lupakan chess..jom kita p Lake Batur plak...
The scenic Lake Batur is nearby to Mount Batur. It is actually the biggest crater originated from the explosion of the mountain.This crescent-shaped lake is 3km wide and almost 9km long..besarkan..? Kat sini pon ada penjual2 aggresive tp x ramai mcm kat gunung tadik... Pemandangan kat tasik ni pon tidak kurang hebatnya... menurut penjual kat situ, seberang tasik tuh ada satu pokok di mana satu kumpulan suku kaum di kampung itu akan membiarkan mayat2 di bawah pokok tersebut..ngeri gak dengar citer tuh..According to them, the corpses won't be smelly because of the nature of the tree where it absorbs the smell from the corpses... She asked us whether we wanted to visit the tree or not...I said, "no thank you.." Listening to the story was creepy enough
... The serenity of the place made me realized how beautiful and preserved the place is...The wind was blowing softly and it made me didn't wanna go home...
U can see the mount's trail clearer from the lake
The Boat that will take u to the grave tree
Adik dan kipas barunya...She bought the fan, bangle and hair clip from the makcik...Haii la....
After Lake Batur, we went to another sight nearby, Batur Natural Hotspring...Air Panas..kat sini ada disediakan massage parlor, kolam nak mandi air panas, towel, toiletries..just for visitors to use..for a fee.. entrance fee pon kene byr..but very minimal... there are 2 sides of the hot spring for bathing..1 is for the locals, free and another 1, cantik sket for tourists...Indonesians masok sini percuma aja... Sini pon cantik, tempat mandi air panas ni dikelilingi oleh tasik... There are quite a number of small hotels and guest houses here too... There is also a restaurant to dine if u're hungry..tp kehalalannya, i x pasti....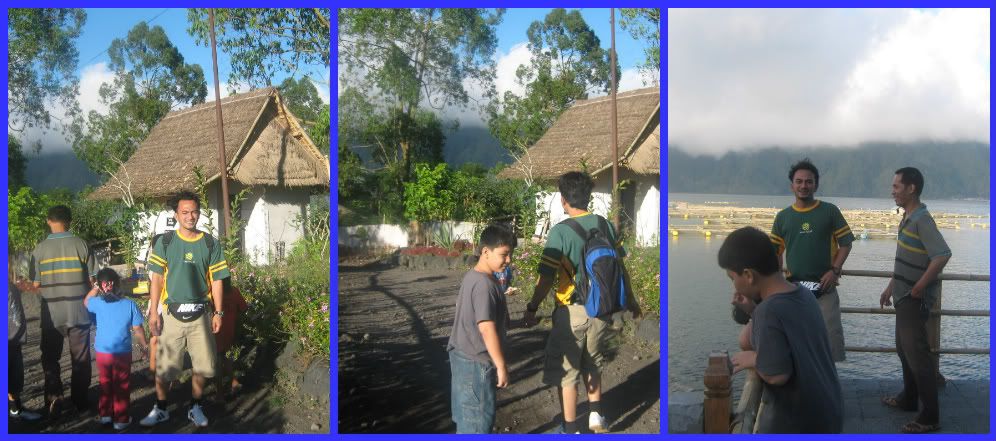 This way to the hotspring...
Farah as usual cuba membuat onar...nak terjun dalam kolam air panas...dah setengah seluar basah, papanya datang dan menyelamatkan keadaan..kalau tidak, memang kuyup budak tuh...
Detik2 nak masuk kolam: Dari kiri, cubaan nak terjun, bawah kiri, papa to the rescue, kanan atas, monyok
lepas kene marah, bawah kanan, she's happy again...dunno why the pics looked watermark like this...


Lepas selamat tangkap2 gambar melawat-lawat, it's time to head back to the hotel... By that time, it was nearly dark...al-maklomla, kat Bali gelap awal dari sini...the journey down took a couple of hours as the road is not a highway, sort of like kampong road...winding sometimes...we didn't watch all the dances coz my children were afraid of the costumes and all, so we decided to skip those..kang mimpi2 mengingau plak bebudak tuh... After all, even i, myself was not really keen and interested with the dances.
Sampai hotel at about 8pm... Budak2 nih still nak mandi kolam..nak tak nak, dah lah sejok..teman jugak mereka...they knew from the lifeguard that the pool would be closed at 9..so they still had time... Lepas makan, we all lepak reading room lagik..after a while, perot pon dah lapar..so, we ordered room service from the restaurant.

1st n 2nd from top: Pool ini kami
yg punya.. Bottom: Lepak after swimming
1st: Played chess, 2nd" I won!, Bottom:
Cheese vege pizza, the best!
~END OF DAY 3 ~
*Tomorrow's highlights: Courtyard, HRC, Kuta & Jimbaran Bay